How to Get a Flourishing Garden
17

Jul 2015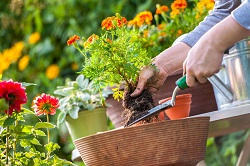 Who doesn't like a flourishing garden? It's a dream of every gardener to have a garden full of flourishing vegetables and plants. And guess what? Having a flourishing outdoor space is not rocket science. What it requires is some research, a little hard work and of course a lot of passion and love for gardening which you already have. Here are a few tips of making your garden flourish with abundant plants and fresh vegetables.
• Do your research on season, seed and soil quality - The three factors which determine the fate of your garden are season, seed and soil. The kind of seeds you grow directly affects your yields and hence you should be using the best and most suitable seeds available. If you have to pay a little for a good quality seed then do not hesitate and be ready to spend money on a better quality product. Quality seeds give better results and can withstand various pests and adverse climatic conditions. Different vegetables have different harvesting season. So, make a plan for harvesting based on the seasons. Some vegetables grow quickly in winter season hence you should be looking to harvest these veggies in your garden during the winter season. At the same time some plants favour the spring season. Therefore, gardeners are requested to make their harvesting decisions after studying the season. The soil in your garden also plays a major role in affecting the results of your harvest. Have a proper mix of soil and keep its nutrient content high and adequate. Having a healthy soil is a big bonus.
• Irrigation method - Once you are done with the first three issues of seed, soil and season, the next big thing is the irrigation method. How you water you plants decides how well your garden flourishes. Have a scientifically proven and systematic watering procedure which has minimal chances of failure. You can have sprinklers or you can use drip irrigation for watering purposes. There are plenty of options available, but the tricky part is choosing the appropriate method. You can take help from a garden expert to get to know the best watering method for your back yard. At the same time, the quality of soil and type of plants can help you schedule the watering timings. Some types of soil require heavy watering while other types require minimal watering.
• Keep the weed plants at bay - Weed are an enemy of flourishing gardens. Weed plants absorb a significant amount of nutrients and water for their growth and in the process ruin your plants. Hence, it is mandatory to eliminate weeds from your outdoor space. There are various methods of eliminating the weed plants which include reducing the gap between two plants, using mulch to cover the soil and not digging the soil unnecessarily. All these measures prevent the growth and development of weeds. However, if you are looking for a specific solution then you can try using chemicals and herbicides which are known to have quick and long-lasting effects.
• Hire a gardening service - Creating a flourishing garden requires time and effort. If you don't have the time to devote to gardening, then why not opt for gardening services from the experts. These gardening professionals will leave no stone unturned in making your outdoor space attractive and flourishing. They have expertise of garden maintenance, lawn mowing and garden clearance which can completely transform your garden. There are plenty of services available and a quick search will enable you to hire the best garden care services.